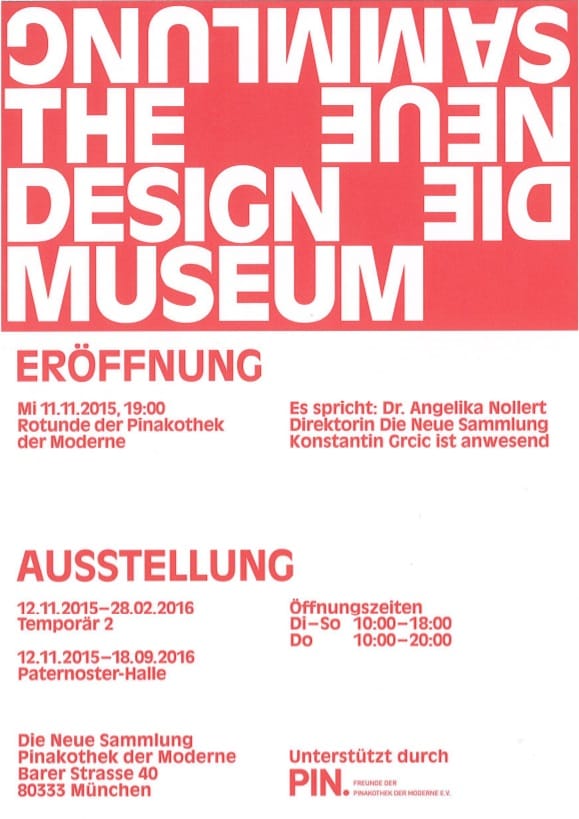 GRCIC'S EXHIBITION:
THE GOOD,
THE BAD,
THE UGLY,
AT THE NEUE
SAMMLUNG
IN MUNICH
MATTIAZZI IS GLAD TO ANNOUNCE NEXT KONSTANTIN GRCIC' S EXHIBITION
AT THE NEUE SAMMLUNG IN MUNICH, GERMANY.
THE EXHIBITION PRESENTS GRCIC'S SERIOUS AND DETAILED INQUIRY
INTO THE BEST MATERIALS, THE SURFACE'S SHAPE, THE WEIGHT, AND THE OVERALL VOLUME.
IN THE PATERNOSTER LIFTS KONSTANTIN GRCIC IS PRESENTING KEY CURRENT ITEMS,
AMONG WHICH THE CLERICI BENCH AND THE MEDICI LOUNGE.
AN INDUSTRIAL DESIGNER BY TRAINING, HE PRIMARILY DESIGNS FURNITURE,
AND HIS OEUVRE IS TYPIFIED AS MUCH BY STRINGENCY AS IT IS BY DIVERSITY.
HIS DESIGNS STAND OUT FOR THEIR EXCEPTIONAL TECHNOLOGICAL INNOVATION,
PRECISION, EFFICIENT USE OF MATERIALS, AND PERFECT FORMS.
WE ARE GLAD TO INVITE YOU AT THE NEUE SAMMLUNG IN MUNICH TO SEE GRCIC'S ARTWORKS
THE EXHIBITION WILL TAKE PLACE IN THE NEUE SAMMULNG MUSEUM IN MUNICH GERMANY:
TEMPORARY EXHIBITION GALLERY 2: NOVEMBER 12, 2015 – FEBRUARY 28, 2016
PATERNOSTER ROOM: NOVEMBER 12, 2015 – SEPTEMBER 18, 2016