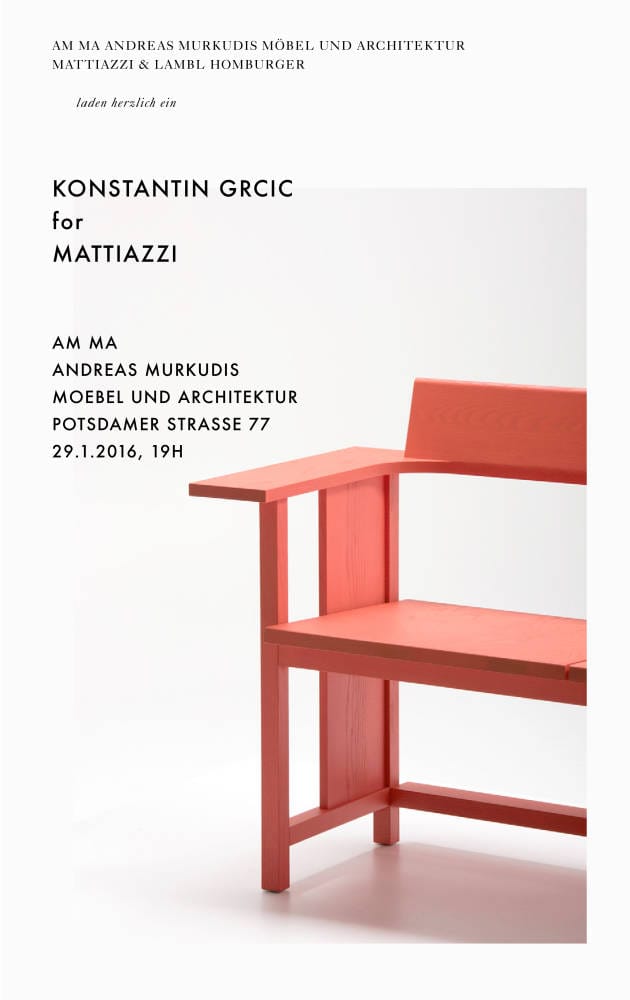 GRCIC'S COLLECTIONS
PRESENTED AT AM MA, BERLIN
FOR THE FIRST TIME WITHIN A MUSEUM CONTEXT IN GERMANY
AM MA ANDREAS MURKUDIS MOEBEL UND ARCHITEKTUR
PRESENTS CLERICI- AND MEDICI-COLLECTIONS BY KONSTANTIN GRCIC FOR MATTIAZZI.
IN THE PAST YEARS, THE ITALIAN HIGHEST QUALITY FURNITURE PRODUCER HAS BECOME
ONE OF THE LEADING DESIGN BRANDS WITH COOPERATIONS OF DESIGNERS LIKE JASPER MORRISON,
RONAN & ERWAN BOUROULLEC, SAM HECHT AND KONSTANTIN GRCIC.
IN 2015 DIE NEUE SAMMLUNG / THE DESIGN MUSEUM IN MUNICH
ACQUIRED THE WHOLE MATTIAZZI COLLECTION, IT IS FOR THE FIRST TIME EVER THAT THE MUSEUM
TAKES A COMPLETE COLLECTION FROM ONE MANUFACTURER.
BOTH MEDICI AND CLERICI ARE CURRENTLY DISPLAYED AT THE EXHIBITION
KONSTANTIN GRCIC, "THE GOOD, THE BAD, THE UGLY" IN MUNICH.
ON THE EVENT ON FRIDAY, 29.01.2016, 19H
AT AM MÖBEL + ARCHITEKTUR
KONSTANTIN GRCIC WILL HOLD A BRIEF INTRODUCTION ALONG WITH MATTIAZZI
ART DIRECTOR FLORIAN LAMBL, OWNER NEVIO MATTIAZZI AND CRISTINA SALVATI.
AM MÖBEL + ARCHITEKTUR ANDREAS MURKUDIS
POTSDAMER STRASSE 77, 10785 BERLIN
+ 49 30 755 438 79
AMMA@ANDREASMURKUDIS.COM
WWW.ANDREASMURKUDIS.COM