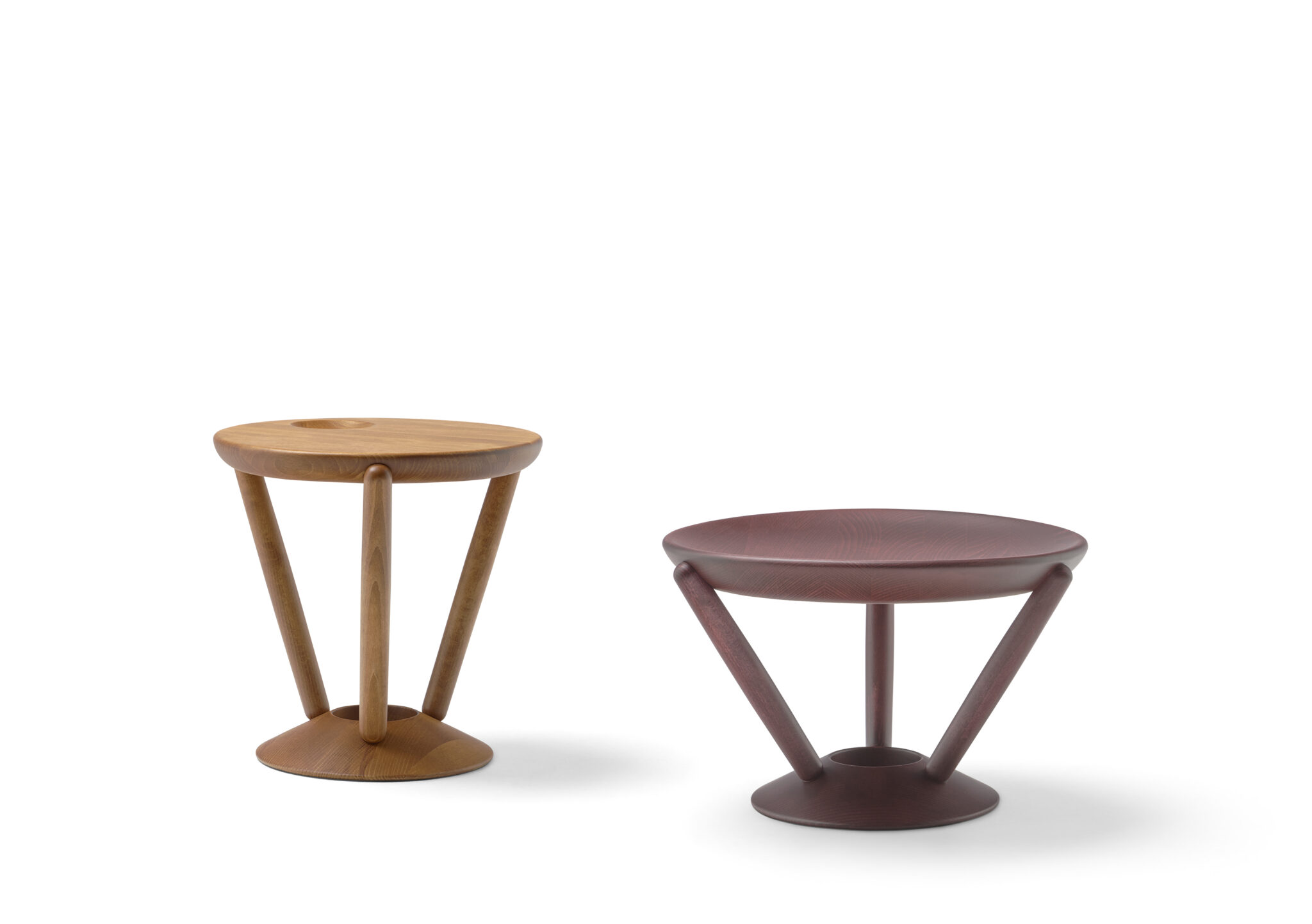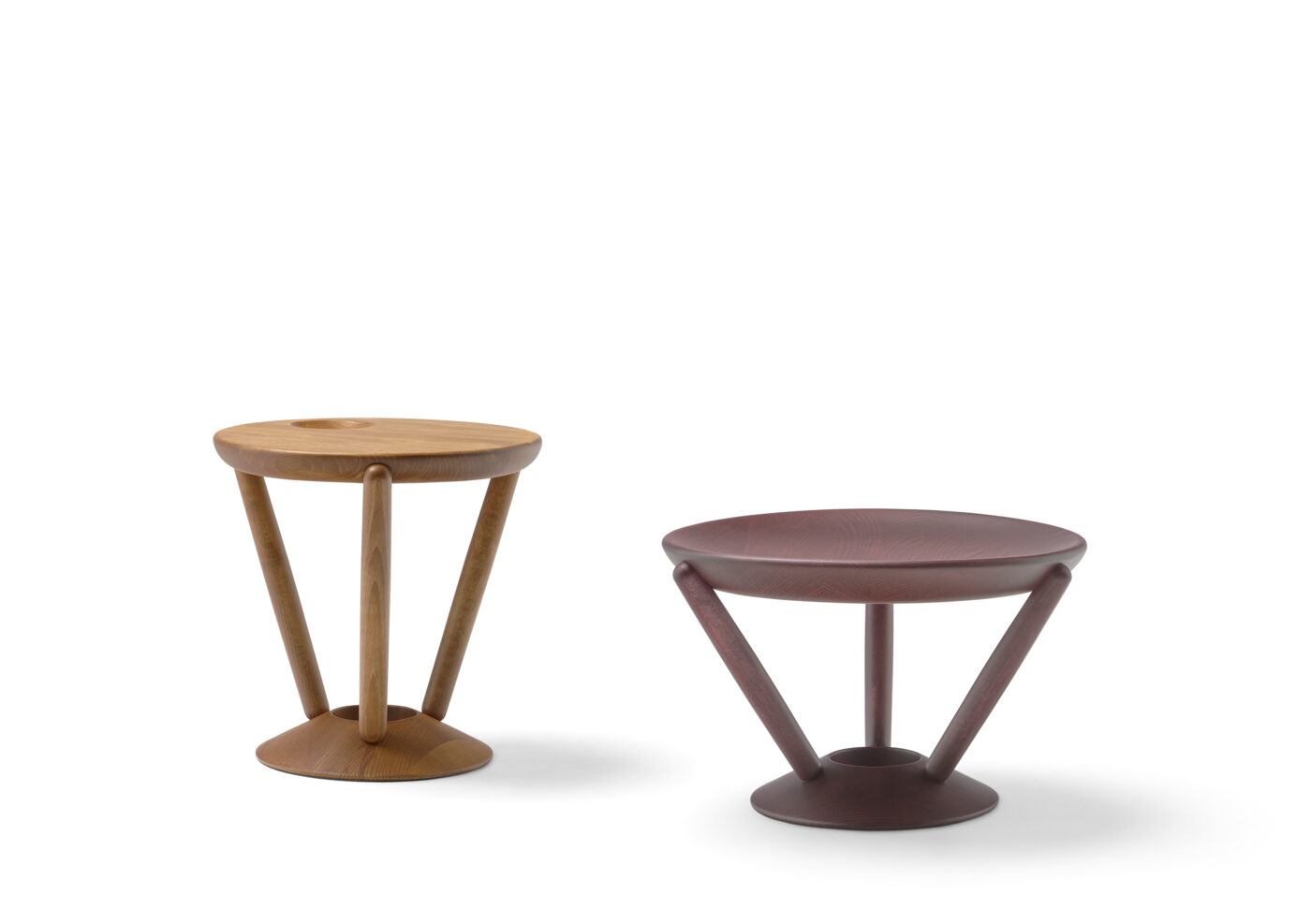 2023 / MC26 — PIPAIO
BY JULIE RICHOZ
The interview
Konstantin Grcic: Three years ago, you designed a beautiful set of bowls for Mattiazzi called Portobello. You said that what interested you, was "the savior faire, the precision in the way in which materials are employed, and that things are done with passion." This year you are launching the PIPAIO side tables. Is the design of these tables still characterized by an idea of craftsmanship?
Julie Richoz: For the Portobello bowls my intention was to reveal the beauty of joinery (that I found very appealing on my first visit to the factory). Here, with the PIPAIO tables, each element is in balance with the others to form a vibrating ensemble – and in order to make this look effortless I rely on perfectly executed and therefore invisible joinery giving the impression of a very simple assembly while hidden inside are carefully engineered connections executed by numerical controlled machining.
The expression of craftsmanship here lies in the careful execution, the choice of wood, the finish, the perfection. All this in service to the beauty of solid wood, to provide a canvas for the grains to express themselves and to give a flawless stage to the play of light and shadow. A cone, sticks, a bowl.
KG: I like your description of PIPAIO looking "effortless". Three wooden sticks holding up the top or bowl, like a waiter balancing a tray with the fingers of his hand spread open. The small base adds to this notion of lightness. From the
beginning, you had a relatively clear picture in your head of how your furniture should be. There were many small changes and adjustments, but the overall picture remained. Can you tell us something about where this image came from – what was the inspiration or references for your project?
JR: There was an eclectic mix of references I had in mind – from ancient Egyptian furniture, art deco things and modern wooden kid's toys – when we made a very quick and lovely model in the studio, with a portobello bowl upside down as a base, a broom stick cut in three and a round Aalto stool seat. The assemblage had something quite joyful, light and surprising and at the same time seemed structurally sound. The image you mention of a hand holding a serving tray came to mind and we liked the fact that the small table is easy to grab. It just felt like a convincing framework to build around.
KG: Finally, could you say something about where you see PIPAIO being used? Even though your project is extremely versatile in use, I'd be interested to hear what you have in mind, when you think about PIPAIO in real life situations. What are these scenarios?
JR: I'm very interested in this kind of versatility and when working on the overall size of the PIPAIO bowl for example we tried to make it work on the floor but also on top of other furniture – large tables or consoles. Somewhat between an object and a piece of furniture. I very much like to imagine the bowl on a counter of a bar or a hotel, welcoming guests with fruits. The geometry and the fact that the bowl is elevated gives it a bouquet kind of character. With the cavity on top of the side table we tried to offer a space to hold small
things which can be quite practical when casually diverted as a bedside table for example, but anyways I am more than curious to see where the collection finds its use and place.