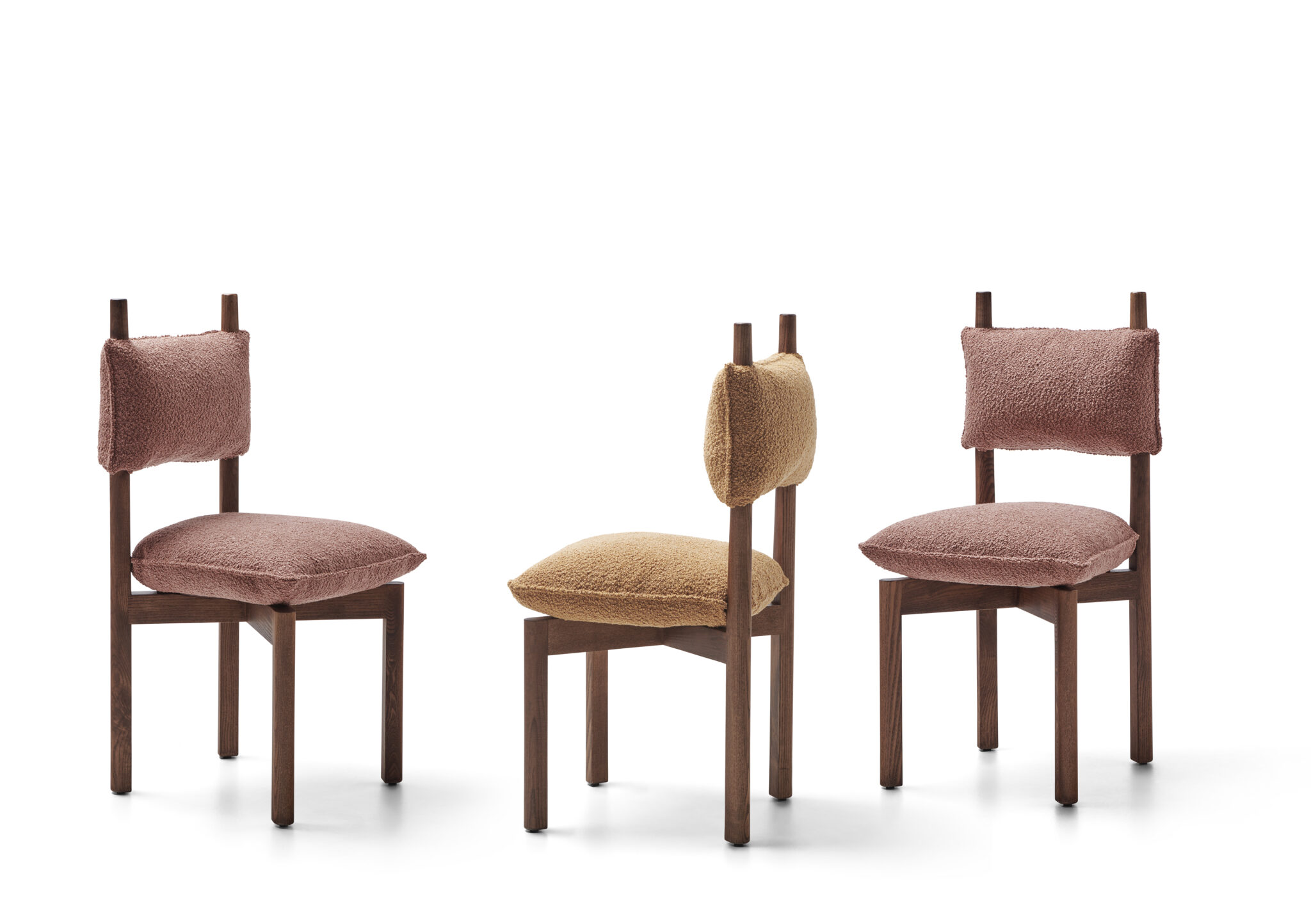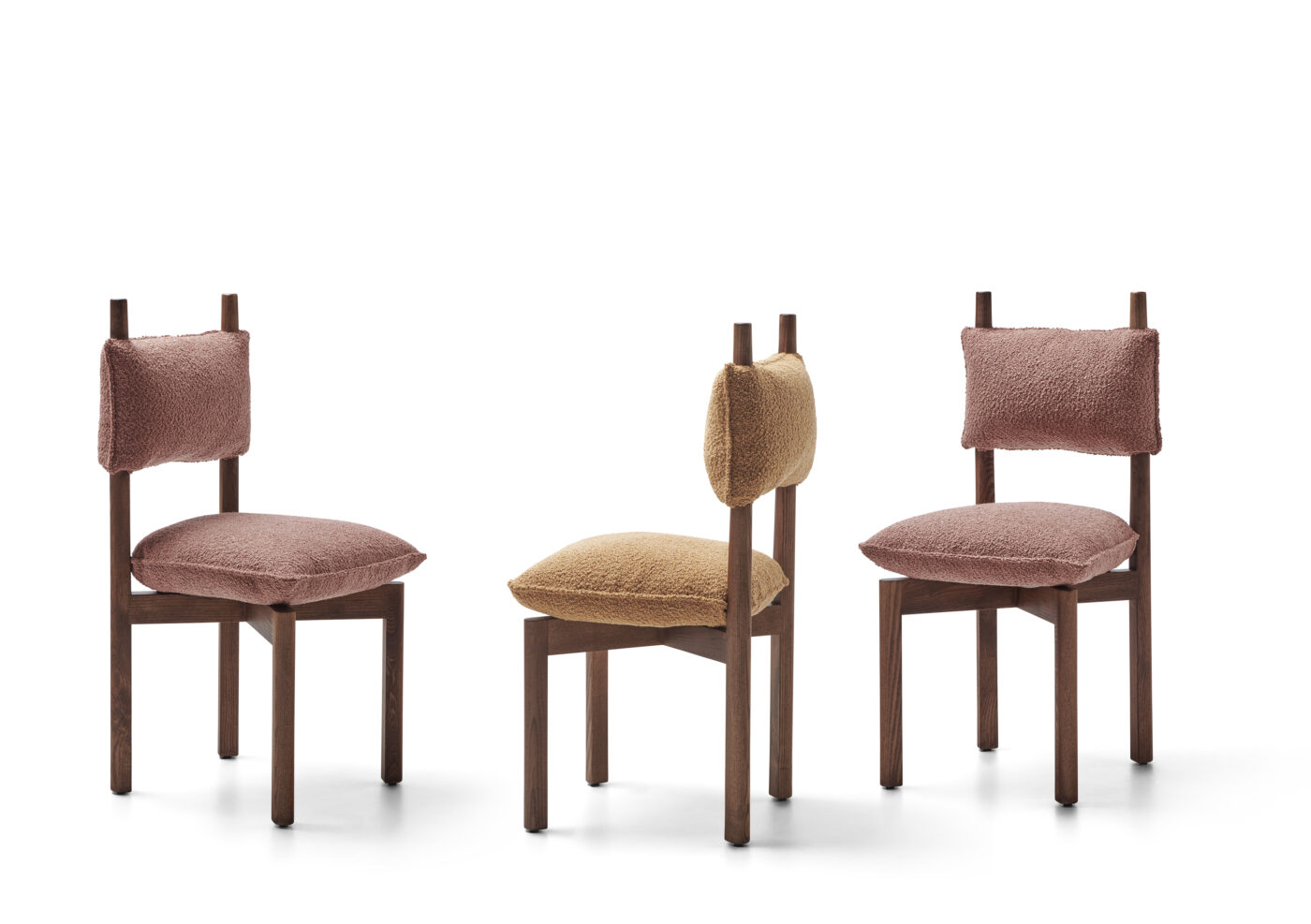 2023 / MC25 — PAF PAF
BY MARIALAURA IRVINE
The interview
Konstantin Grcic: The briefing of your project was to design an upholstered chair for collezione Mattiazzi. It is your first project for Mattiazzi, which can have its pitfalls, because you don't know each other yet. Mattiazzi are known for their excellence in making wooden chairs. With upholstery, their experience is little to none. It became a journey for both of you. How did you approach the project – what were the few important cornerstones for you?
Marialaura Irvine: The challenge was to design an upholstered chair that respected Mattiazzi's DNA: to make a wooden chair soft and inviting. Therefore creating a balance between two concepts and two totally different materials: wood and upholstery, perfection and imperfection, rigidity and softness. Liberating the materials, of which an upholstered chair is composed, allowing them to express their essence and production processes. In my imagination it was the meeting of the masculine and feminine sides, showing Mattiazzi's perfection and geometric rigour in woodworking and how to accommodate the beauty of imperfection in upholstery. By respecting these dichotomies, we have simplified their union and eventual separation. The final aesthetics are a consequence of this process.
KG: You had a very strong opinion about the sustainability of your project – and especially with regard to the upholstery. It was important to you to find an alternative to conventional polyurethane foam – and you succeeded. Can you say something about the upholstered elements of the chair, what they are made of and, of course, what kind of comfort they provide?
MI: The sustainable approach was to separate the materials and specify the components: wood, recycled feathers and fabric. Then I asked myself what comfort was, a backrest and a seat to sink into. I imagined a soft cloud fitting into a solid wooden structure. The imperfection of the form meeting the rigour of the structure. I immediately thought of a pillow, of how it takes the shape of your head when you sleep and then in the morning with a simple gesture of your hands becomes plump again. Paf Paf. The feather that regenerates in the sun to be eternal. Materials then that can be separated, washed, regenerated, reciprocated or given a second life.
KG: Listening to you, everything sounds so simple, natural. I know that a lot of work and persistence goes into making things become simple. Now, could you say something about the kind of chair PAF PAF is, what it looks like or rather what kind of personality you see in it?
MI: Your brief was a real challenge showing me a throne from the 1300s. You told me 'there is something radical in this simplicity'… I grew up in southern Italy where big, heavy chairs were my everyday life: dark wood frame, custom upholstery from the family's upholsterer, studs to fix the fabric, decorations carved in wood that stood tall, seats that forced you to stand up straight! I stripped that imagery of superstructures, challenging Mattiazzi to develop a decomposable chair, making it lighter and lighter. The wooden frame stacks, the seat and backrest are easily attached, the covers come off. So simplicity in terms of logistics, storage and transport, and in terms of product life. Paf Paf is my vision of a contemporary throne: honest and with a strong character, able to develop into further versions in the future.